WhizCut External Toolholders and Inserts
WhizCut has a set of tool holders and the most extensive line of inserts for external turning in Swiss automatics.
The WhizFix tool holder system for external turning in swiss automatics uses a bent pin and a nut to index the insert. Indexing an insert is easy, accurate and quick. You can index or change the insert while the tool holder is in the machine even if there only is access from the back side of the tool holder.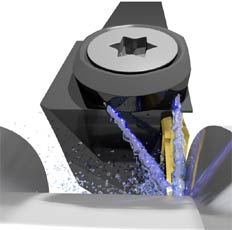 Most WhizCut toolholders are also available in a WhizHip version. The WhizHip tool holders have high pressure coolant through the toolhoolder.