Thread Milling Software Program
WhizCut offers all customers free of charge a program that will help program thread milling operations in the CNC machine. The WhizThrill software aid is a very user friendly program that recommends the programming for the CNC machine.
The program is updated regularly so make sure to have the latest version. Like us on facebook, visit this page regularly or fill in the form below to stay updated.
Download: WhizCut Thread Mill Software.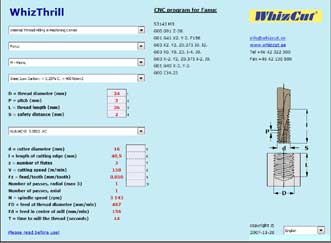 Screenshot of WhizThrill Thread Mill Software Aid